About Us
THE CHURCH OF THE GOOD SHEPHERD
(An Anglican/Episcopal Parish of the Diocese of New York)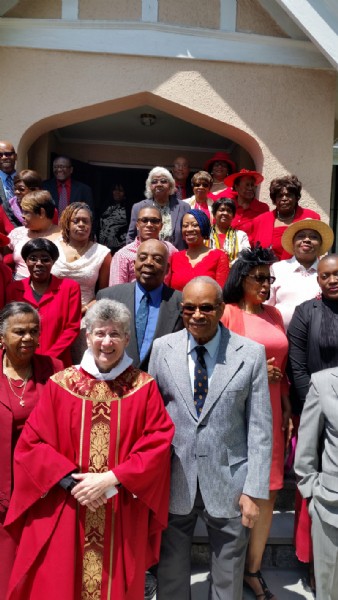 Mission Statement: The Church of the Good Shepherd, an Episcopal Church in the Anglican Communion, is a culturally-diverse and multigenerational congregation. We are a beacon of God's love and compassion, striving to spread the Gospel beyond the doors of our Church.
The Church of The Good Shepherd is a vibrant Episcopal church in the Wakefield section of the Bronx since 1909. We began with humble beginnings and during its 109 years, Church of The Good Shepherd has become a diverse congregation of mixed generations of Caribbean and South American families.
We are currently a church in transition because after a period of 18 years being the Rector of The Church of the Good Shepherd, Canon Calvin C. McIntyre retired to his homeland, the island of Jamaica. Due to that fact, the congregants of the Church of The Good Shepherd are in the process of selecting a new Spiritual Leader (a new Rector/Priest in Charge) for our church. While we search, our regular services continue with our Interim Priest in Charge, Reverend Joanne Izzo.
The Reverend Joanne Izzo, a native Brooklynite, had served The Church of The Good Shepherd with lots of zeal and zest as a summer supply priest in 2017. The governing body of the church, saw that she was not timid in extending her arms so as to complete God's work, decided to invite her to serve as an interim Priest in Charge for a year. Rev. Izzo was ordained to the priesthood in September 2014, and has served as a supply priest around the Episcopal Diocese of New York, and also as a short-term priest in transition interim ministry situations.
Rev. Joanne is trained and certified in Appreciative Method of Interim Ministry. She also facilitates Leadership Retreats, Mutual Ministry reviews, Vestry Retreats and Strategic Planning Retreats and other training sessions at the request of the Canon for Transitional Ministry of our diocese. Rev Joanne also serves as a consultant to the Bishop's office and several other dioceses in the region. As a priest with many strengths, she is also trained as a coach for the clergy under the Canon for Congregational Development who coordinates coaching assignments and training activities. Yes, Rev. Joanne wears many hats!
While Rev. Izzo was affiliated with Christ Church in Tarrytown, from June 2014 to February 2016, she spearheaded a project to address racism which begun as a Lenten journey of six Westchester River towns, Episcopal Congregations that grew to become an organization known as REPAIR which continues to flourish. Rev. Izzo has served on and is still affiliated with the anti-racism committee.
She obtained an STM from General Theological Seminary in 2014 where she focused on the Eucharistic Lectionary and the ancient tradition of pilgrimages for contemporary times. While at GTS she curated an exhibition of Icons and served as editor for the catalog.
She is trained as a spiritual director and holds several graduate degrees. She received her BA from Fordham University, College of Lincoln center in 1979 with honors medal in philosophy.